Found 2 software entries in

Games beginning with: "P" from category: Shooter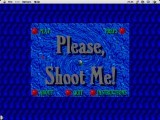 (Added on 2020-09-20 10:31:00)
Please Shoot Me, released in 1996 by Slovis Software. A simple shareware game in which you shoot down creatures running across the screen using your mouse cursor. You get additional weapons and encounter new types of creatures as you progress...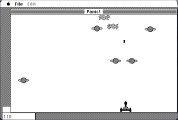 (Added on 2017-11-21 09:32:50)
Panic! is a very early alien shooter arcade game for 1980's Macs. Features an 8 bit buzzing sound effect :P

To date, Macintosh Repository served 1752570 old Mac files, totaling more than 363193.3GB!
Downloads last 24h = 1180 : 181010MB
Last 5000 friend visitors from all around the world come from: