Found 2 software entries in

Applications beginning with: "D" from category: Organizer

(Added on 2018-05-18 17:30:25)
Organizer / Personal Information Manager.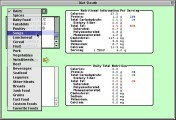 (Modified on 2020-02-10 08:38:55)
Diet Sleuth allows you to keep track of what foods you eat each day, and their nutritional value. For each day, you select the foods you have eaten, and the number of servings of each. Diet Sleuth will automatically calculate your caloric intake,...

To date, Macintosh Repository served 1535252 old Mac files, totaling more than 309917.6GB!
Downloads last 24h = 1083 : 228251.3MB
Last 5000 friend visitors from all around the world come from: