Found 2 software entries in

Games beginning with: "A" from category: Children, Kids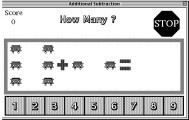 (Modified on 2018-03-30 04:43:55)
Additional Subtraction is an educational game in which you're presented a series of mathematical questions and you simply have to click the corresponding answer at the bottom of the screen. You can choose between additions, subtractions or...
(Modified on 2020-10-06 06:50:01)
Note: Activity centre is included in this disc as well as the main game.

To date, Macintosh Repository served 1315125 old Mac files, totaling more than 254243.6GB!
Downloads last 24h = 675 : 153666.7MB
Last 5000 friend visitors from all around the world come from: