Found 2 software entries in

Games beginning with: "O" from category: Game Editors, Mods & Tools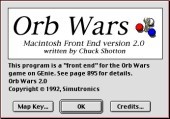 (Modified on 2018-06-11 19:35:29)
Orb Wars is a multi-player game of fantasy combat played on GEnie. The game takes advantage of special purpose "front end" programs to supply players with graphics, sounds, special effects, and messages from the game. You don't need a...

(Added on 2020-09-11 12:05:04)

To date, Macintosh Repository served 1595862 old Mac files, totaling more than 323998.3GB!
Downloads last 24h = 998 : 249878.8MB
Last 5000 friend visitors from all around the world come from: