Found 2 software entries in

Games from category: Novelties & Fun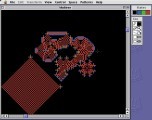 (Modified on 2016-03-05 11:53:11)
LifeMaker is a cellular automata program for color Macs. Cellular automata (CA) can be thought of as mini-universes. The universe starts at some initial state and evolves according to a simple local rule. ConwayUs Game of Life is by far the best...
(Modified on 2019-12-09 05:52:37)

To date, Macintosh Repository served 1628906 old Mac files, totaling more than 332340.3GB!
Downloads last 24h = 1065 : 222831.1MB
Last 5000 friend visitors from all around the world come from: