Found 2 software entries in

Applications beginning with: "D" from category: Download Manager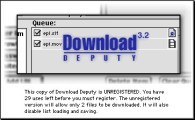 (Modified on 2017-10-14 18:46:47)
Download Deputy is a downloads helper that enables you to queue a list of files to download on any website and it can even auto-expand archive files when they're finished downloading. It could also shut the computer down or disconnect from...

(Modified on 2017-10-15 20:19:02)
Download Wizard is a download manager for Safari.

To date, Macintosh Repository served 1522701 old Mac files, totaling more than 307265.2GB!
Downloads last 24h = 983 : 287730.3MB
Last 5000 friend visitors from all around the world come from: