Found 2 software entries in

Applications beginning with: "P" from category: Instant Messaging Client
(Modified on 2020-12-09 07:08:28)
Pegasus is a server/client chat platform that uses TCP/IP with a proprietary protocol to connect clients to a server and allow them to chat with other connected clients and browse "rooms" with different backdrop pictures by clicking...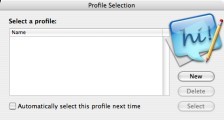 (Modified on 2020-01-06 18:30:21)
Proteus app is an amazing/perfect chat app. It provides a such excellent user interface.

To date, Macintosh Repository served 1347873 old Mac files, totaling more than 261538.7GB!
Downloads last 24h = 734 : 168900.1MB
Last 5000 friend visitors from all around the world come from: