Found 2 software entries in

Applications beginning with: "M" from category: Electronics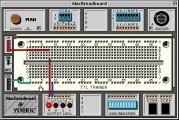 (Modified on 2019-10-18 02:41:03)
MacBreadboard is a complex yet surprisingly simple to use electronics breadboard simulator for 68K Macs. It features color (but also works on B&W Macs), drag and drop GUI ease of use and many, many switches, counters, logic gates, chips,...
(Modified on 2020-06-06 11:59:10)
contain a assembler for 803x intel controler. Used in conjonction with the IMPERIAL board from Elektor. need to install the serial tools in order to work

To date, Macintosh Repository served 1353472 old Mac files, totaling more than 262729.1GB!
Downloads last 24h = 724 : 196744.2MB
Last 5000 friend visitors from all around the world come from: