Found 2 software entries in

Applications beginning with: "F" from category: Beta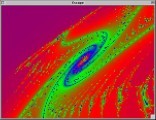 (Modified on 2017-08-25 16:33:15)
Fractal Explorer is a very simple and optimized fractals rendering app. Resolution can be adjusted by the user, so the rendering process can be super fast (instantaneous on a 100mhz PowerMac) or super fine detailed. You can zoom in/out...
(Added on 2017-09-11 10:04:41)
FunPaint! is a nice B&W graphics toy that immediately hands you over the entire screen to click and draw abstract stuff. It offers adjustable size painting tools such as rectangle, circle, gradients, "palette" (B&W so...

To date, Macintosh Repository served 1315015 old Mac files, totaling more than 254230GB!
Downloads last 24h = 709 : 185841.4MB
Last 5000 friend visitors from all around the world come from: