Found 2 software entries in

Applications beginning with: "S" from category: Desktop Publishing

(Added on 2019-03-11 07:28:03)
SmartScrap is a Scrapbook replacement. Multiple scrapbook files, scaling of large images, table of contents. The Clipper is a cropping and scaling tool with which one can determine the exact dimensions of an area where you are going to...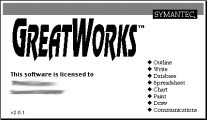 (Modified on 2020-04-01 17:47:50)
Symantec GreatWorks is an utility app allowing you to import various 1980's Mac document formats, edit and export to standard formats, using included Claris translators. Supported formats include: Apple II text, database, spreadsheets...

To date, Macintosh Repository served 1531097 old Mac files, totaling more than 309035.3GB!
Downloads last 24h = 1142 : 266933.2MB
Last 5000 friend visitors from all around the world come from: