Found 2 software entries in

Applications beginning with: "S" from category: Icon Tools
(Modified on 2020-11-20 06:08:55)
From the Read Me file back in 2001: The version of Scheme Factory that you have right now is a preview release version of what we hope will be the next generation Kaleidoscope scheme editor. You'll find that Scheme Factory offers a clean and...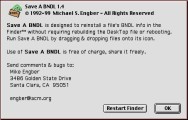 (Modified on 2017-10-18 18:27:36)
Save a BNDL gets the Finder to recognize changes in a file's BNDL resource without requiring rebuilding the Desktop or rebooting. All you have to do is drag and drop a file on it. Save a BNDL also has a button to restart the Finder...

To date, Macintosh Repository served 1533383 old Mac files, totaling more than 309537.5GB!
Downloads last 24h = 1060 : 307696.8MB
Last 5000 friend visitors from all around the world come from: