Found 2 software entries in

Applications beginning with: "M" from category: Download Manager

(Modified on 2019-02-12 22:38:02)
Downloading files from the Internet has never been easier thanks to Monica, the Mac download manager! Uses FTP, HTTP and Hotline protocols to download your favorite free stuff (free mp3s, music, games, screensavers, clipart, maps and...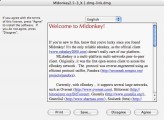 (Modified on 2018-03-17 22:55:23)
MLdonkey is a multi-platform multi-networks peer-to-peer client. Originally, it was the first open-source client to access the eDonkey network.

To date, Macintosh Repository served 1490908 old Mac files, totaling more than 299062.4GB!
Downloads last 24h = 807 : 227645.5MB
Last 5000 friend visitors from all around the world come from: