Found 2 software entries in

Applications beginning with: "G" from category: Scientific

(Modified on 2017-04-27 13:17:14)
The most important new addition in V3.6 is the use of molecular structures for data entry. gNMR will now import structure files from a number of chemistry drawing packages, and let you enter data by clicking on atoms of the structure. There is a...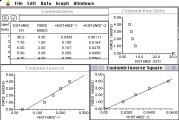 (Modified on 2020-04-03 04:50:31)
This version supports importing data from TI-82 and TI-85 Graphics Calculators from Texas Instruments. To do this, you need the TI-GRAPH LINK cable (available from TI dealers or Vernier Software). With Graphical Analysis running and a blank data...

To date, Macintosh Repository served 1491705 old Mac files, totaling more than 299272.4GB!
Downloads last 24h = 989 : 269508MB
Last 5000 friend visitors from all around the world come from: