Found 2 software entries in

Applications beginning with: "S" from category: Backup
(Modified on 2019-04-19 07:27:05)
ShuttlePilot ============ Keeping multiple copies of files stored on separate media or separate machines up to date whenever a change is made to one of the copies is an old problem. Recently with the proliferation of PowerBooks and the rising...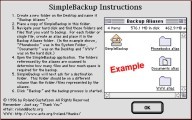 (Added on 2019-05-03 11:15:50)
SimpleBackup is a small shareware utility that lets a user set aliases of folders they want backed up and then all the user has to do is launch the utility app and the backup process automatically starts. There are no options to automatically...

To date, Macintosh Repository served 1488133 old Mac files, totaling more than 298315.1GB!
Downloads last 24h = 934 : 225278.7MB
Last 5000 friend visitors from all around the world come from: