Found 2 software entries in

Applications beginning with: "A" from category: MIDI

(Modified on 2020-03-15 06:18:15)
This is a program to edit sample sounds in vintage Samplers machines, like Akai S950, Roland S-50 or Ensoniq Mirage Is using OMS, for midi comunication, on a USB mac (with no serial ports), you must leave both, printer and modem,...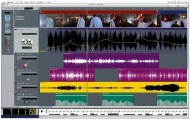 (Modified on 2020-12-13 21:02:59)
Logic Pro 7 System Requirements Macintosh computer with PowerPC G4 or faster processor (G5 or dual G4 processors recommended). PowerPC G5 and Gigabit Ethernet connectivity for Logic Node applications. Mac OS X v10.3 or later. 512 MB of...

To date, Macintosh Repository served 1533383 old Mac files, totaling more than 309537.5GB!
Downloads last 24h = 1060 : 307696.8MB
Last 5000 friend visitors from all around the world come from: