Found 2 software entries in

Applications from category: Audio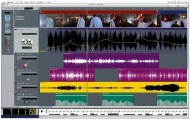 (Modified on 2020-12-13 21:02:59)
Logic Pro 7 System Requirements Macintosh computer with PowerPC G4 or faster processor (G5 or dual G4 processors recommended). PowerPC G5 and Gigabit Ethernet connectivity for Logic Node applications. Mac OS X v10.3 or later. 512 MB of...

(Modified on 2020-12-13 21:06:25)
Searching for Logic Audio Platinum 6 Installer (macos X)

To date, Macintosh Repository served 1532487 old Mac files, totaling more than 309274.7GB!
Downloads last 24h = 979 : 176120MB
Last 5000 friend visitors from all around the world come from: