Found 2 software entries in

Applications beginning with: "E" from category: Beta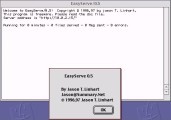 (Modified on 2017-08-11 15:04:37)
Welcome to EasyServe, the really, really easy World Wide Web server. EasyServe is very easy to use, mostly because it doesn't do much. EasyServe serves pages to the WWW. That is all it does. There's no logging, no CGI,...

(Added on 2017-04-30 15:52:35)
EasyTransfer is a file transfer utility that allows you to access files on Macintosh computers over the Internet. In a way, it is a bit like FTP, except that is designed to run exclusively on Macs. EasyTransfer is really two applications: a server...

To date, Macintosh Repository served 1523635 old Mac files, totaling more than 307454.7GB!
Downloads last 24h = 934 : 193993.3MB
Last 5000 friend visitors from all around the world come from: