Found 2 software entries in

Apple II from category: Software Compilations
(Modified on 2021-12-03 10:04:06)
This is a bunch of random Apple I and II disk images in 140KB and 800KB formats. I have not got the time required to sort all of them individually, so perhaps that you, reader, can do it? ;-) Note: While I have not tried to mount every...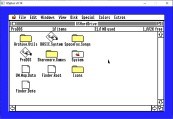 (Modified on 2020-08-25 12:27:29)
this is the hard drive image i use on my apple iigs emulator, gsplus. I decided to share it because it has several things that you will not need to download, such as utilities for floppy disk, hard drive, music and games. it has version 6.0.1 of the...

To date, Macintosh Repository served 1752605 old Mac files, totaling more than 363204.3GB!
Downloads last 24h = 1190 : 190036.5MB
Last 5000 friend visitors from all around the world come from: